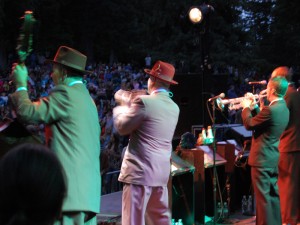 Our Board is hard at work searching for amazing 2014 performers! Interested in being considered? Here's how to apply:
Music submissions
Email music@sweetpeafestival.org links to any websites, audio or video files you would like us to consider (Live performance cuts preferred, if available), as well as any fee requirements you may have. 
Dance
The Mainstage act has been selected for 2014. Local groups please express your interest by emailing dance@sweetpeafestival.org.
Family Entertainment
Email a press kit or letter of interest to family@sweetpeafestival.org.
Theatre
Email a press kit or letter of interest to theatre@sweetpeafestival.org.
Until our 2014 performers are announced (approx April-May), here's a recap of all the amazing acts that performed last year.
Dance
Family Entertainment
Music
Theatre
Dance
Artists of Oregon Ballet Theatre • Friday, August 2 • 6:30pm • Mainstage
Artists of Oregon Ballet Theatre, who have been described by The Washington Post as "…a group of talented and winsome dancers to watch", features leading dancers from the nationally recognized Portland-based company.  Under the leadership of Anne Mueller (recent Interim Artistic Director for OBT), this celebrated group of dancers have recently performed on tour at the Kennedy Center in Washington DC, at Chicago Dancing Festival, and in Seoul, South Korea.
These dancers are noted for a performance style that is athletic, elegant and spontaneous.  OBT's ranks have included five international competition medal winners,  two named "25 to Watch" by Dance Magazine, and several courted to perform as guest artists with national and international touring companies.
At this year's Sweet Pea Festival, Artists of OBT will perform Anne Mueller's, Heartaches, along with excerpts from Christopher Stowell's, Eyes on You, and pas de deux from Swan Lake.
Artists of Oregon Ballet Theatre appear courtesy of Oregon Ballet Theatre.
Tanya's Dance Company • Saturday, August 3 • 12:00pm
Bozeman and Belgrade based dance school performing Mixed Repertory on Sweet Pea's Mainstage.
Montana Ballet Company • Saturday, August 3 • 3:00pm
A Bozeman classic for 30 years performing classical and contemporary repertory staged by prestigious Guest Artists and the Company's Artistic Directors.
IndepenDANCE Community Dance Project • Saturday, August 3 • 5:00pm
A collaborative community based dance project.
Main Street Dance Theatre • Sunday, August 4 • 11:00am
Bozeman based dance school featuring children and students ages 3 and up.
Big Sky Aikido • Sunday, August 4 • 12:00pm
Akido demonstration featuring children and adults of various levels of expertise.
Yellowstone Ballet • Sunday, August 4 • 1:00pm
Livingston Based dance school performing The Elves and The Shoe Maker children's ballet.
Family Entertainment
Camp Equinox Kids • Saturday, August 3 • 11:00am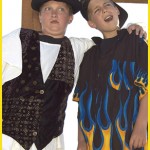 Camp Equinox Summer Theater Day Camp has become a Bozeman institution and Sweet Pea tradition! Under the energetic guidance of co-directors Katie Goodman and Soren Kisiel for 18 years, the camp has been steeping youngsters in the world of theater arts. Along with their super talented and creative staff, kids have the opportunity to meet challenges, explore their creativity, and build self-confidence, all in the environment of a supportive community. For one month during the summer, these kids get to explore their creativity through musical comedy, Shakespeare, film acting, mask-making, play writing, and improvisation. The campers come to the Sweet Pea Festival to share with us a taste of what they've been learning, doing, and creating!
Bil Lepp • Saturday, August 3 and Sunday August 4 • 12:00pm
Internationally-known storyteller and humorist returns to Sweet Pea to regale young and old with his special brand of outrageous and hilarious tall-tales.  His style has been described as a satisfying blend of Bill Cosby and Jeff Foxworthy.  This five-time champion of the West Virginia Liars' Contest is also an award-winning author and recording artist, and has been featured at venues across the nation, including a recent appearance for Comedy Central.  Lepp is the recipient of the Storytelling Circle of Excellence Award and we are thrilled to have him back with us!
The Magic of Daniel GreenWolf • Saturday, August 3 and Sunday August 4 • 1:00pm 

Not just your average show of tricks, Daniel GreenWolf takes highly visual magic, theatrical storytelling, exhilarating Irish music, interactive comedy, and thrilling danger and wraps it in a Celtic theme that has been described as "A Witty, Modern-Day Celtic Viking. Like James Joyce with a Broad Sword." This award-winning magician, writer, creator, and slightly mad Irishman has been voted one of the Top Five Solo Variety Acts in the United States by the Renaissance Festival Podcast and Renaissance Magazine for the last five years in a row.
Victor & Penny • Saturday, August 3 • 2:00pm
This high-energy musical duo brings new life to old songs and a smile to faces of every age. The Family Stage gets a special kid-oriented taste of Victor and Penny who will also be performing on the Mainstage on Sunday, August 4th at 11:00am. (See the Music section below for more information.)
Kaleidoscope Players • Sunday, August 4 • 11:00am
Since the summer of 2000, with their motto of "Imagination in Action," Kaleidoscope Youth Theater has produced over 100 class and players' shows for the stage. Under the guidance of Artistic/Program Director, Stacy Hostetter, this group of eager teens have been honing their stage talents and life skills and will share that with us in their performance of: "Leave Room in the Garden for Fairies to Dance."
Bert & Charlie's Storybook Unbound • Sunday, August 4 • 2:00pm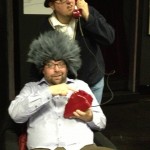 Locally known performers Ryan Cassavaugh (writer and actor) and Christian McDaniel ("the man of over 9,000 voices"), break out of the confines of books to bring stories to life! In a delightful mix of imaginative storytelling, improvisation, character voices, and sound effects they will present high-flying comic and clever tales of adventure to the stage, along with a little help from the parents and children of the audience. Fast paced, engaging, and fun for all!
Music
Montana Musicians:
Ben Bullington • Saturday, August 3 • 1:00pm
Ben Bullington's work draws life-breath from the earth, rivers, sky and people of Montana," says Rodney Crowell, the Nashville songwriting legend who plays guitar and performs a duet on Bullington's second CD, White Sulphur Springs. "In the same way Guy Clark's jeweler's vision captures the eloquent essence of Texas culture without being regional, Ben frames the stillness of Montana winters, the strength of her women and the spiritual bankruptcy of no-account politicians with disarming ease."
Bullington has just released his third CD, Satisfaction Garage, with Rodney Crowell returning to produce two tracks, and guest instrumentalists including Will Kimbrough, Fats Kaplin, George Bradfute, Kenny Malone, David Jacques and Mike Dysinger. Vocals were added by Ben Bullington, Rodney Crowell and Joanne Gardner.
Ben has charted two national folk albums and been featured on NPR.
Alex Nauman Trio • Saturday, August 3 • 2:15pm
Formed in 2009, the Alex Nauman Organ Trio has blessed Montana, a place considered by many to be a black hole in the jazz landscape, with their fresh, sophisticated sound. On one hand, the group harks back to the organ trio tradition, employing percussion, lead guitar and organ to produce soul, blues, and R&B based jazz. On the other, this trio treads uncommon ground, unafraid to delve into funk and rock and roll. The group draws from myriad influences, evoking styles from 60's soul/jazz pioneers and 70's funk-fusion groups to modern groove bands such as Soulive and Medeski, Martin, and Wood. The Billings Gazette writes, "The trio are hardly your run-of-the-mill jazz players. Nauman is one of the finest young guitarists in town."
Growling Old Men • Saturday, August 3 • 6:00pm 
The Growling Old Men don't consider themselves old, nor do they growl very much. What they do is play acoustic music on mandolin, guitar, octave mandolin and vocals. Playing an eclectic mix of music including bluegrass, Americana, folk, swing, and original songs, these guys have made fans of their music everywhere they go.

Tom Catmull & the Clerics • Sunday, August 4 • 12:00pm
Predictably tough to pin the music into one neat and tidy genre, Tom Catmull and the Clerics present an electrified, roots-driven sound supported by the upright bass, pedal steel/electric guitar, acoustic guitar, drums and some leaping around.

National Acts:
Dirty Dozen Brass Band • Friday, August 2 • 8:00pm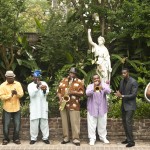 Since their inception in 1977, The Dirty Dozen Brass Band has been performing high-octane, down to the boogie bone jazz and blues music. The Dirty Dozen Brass Band is a world famous music machine, whose name is synonymous with genre-bending romps.  They have revitalized the brass band in New Orleans and around the world, progressing from local parties, clubs, baseball games and festivals in their early years to touring nearly constantly in the U.S. and in over 30 other countries on five continents. The Dirty Dozen have been featured guests on albums by artists including David Bowie, Elvis Costello, Dr. John and the Black Crowes. The city of New Orleans even has an official Dirty Dozen Brass Band Day.
Underhill Rose • Saturday, August 3 • 3:30pm
Underhill Rose blends aspects of Americana, rhythm and blues, country and bluegrass into an authentic sound that is all their own. These female troubadours' original songs are wrapped in three-part harmonies and packaged with an eye-catching stage presence. The smoky voice of Eleanor Underhill joined with the soaring vocals of Molly Rose and the country twang of Salley Williamson creates a sound that can only be described as "heartfelt country soul." Playing banjo and harmonica, guitar, and upright bass respectively, the trio has carved out a place in the Americana scene with songs that run the gamut from heart wrenching to sassy and playful to thought-provoking. The music is real and inspired, rooted in everything life has thrown at Asheville, North Carolina's pre-eminent female trinity.
Jerry Douglas • Saturday, August 3 • 8:00pm
Internationally recognized as the world's most renowned Dobro player, Jerry Douglas undoubtedly ranks among the top contemporary maestros in American music. Douglas has garnered thirteen GRAMMY® Awards and numerous International Bluegrass Music Association awards, and holds the distinction of being named "Musician of the Year" by The Country Music Association (2002, 2005, 2007), The Academy of Country Music (11 times), and The Americana Music Association (2002, 2003). In 2004, the National Endowment for the Arts honored Douglas with a National Heritage Fellowship, acknowledging his artistic excellence and contribution to the nation's traditional arts, their highest such accolade.
Victor & Penny • Sunday, August 4 • 11:00am
Victor & Penny is a Kansas City based duo singing music they call Antique Pop on ukulele and a lovely old guitar.  With characteristic charm and good humor, they bring a fresh twist to music of the early 20th century, unique arrangements of modern tunes as well as clever original songs.  Victor & Penny impress and delight audiences with their infectious energy and deft and oft-surprising jazz guitar licks anchored by a fiery one-ukulele rhythm section. The duo is touring the USA in 2013 and was recently awarded the 2013 Escape To Create Artist Residency in Seaside, FL.
Finnders and Youngberg • Sunday, August 4 • 1:30pm
Colorado's Finnders & Youngberg proudly swim in the deep currents of American music—classic bluegrass, tried-and-true honky tonk, country swing and skillfully spun folk tales. While their sound evokes timelessness, it is a decidedly contemporary, well traveled 21st century sensibility that informs their songwriting. Their tunes draw on the bumps, bruises and laugh lines earned when we find ourselves in the "bogs" of backroads, dive bars, and long, lonesome nights.
Together on stage, F&Y possess an undeniable chemistry and an energy that flows with might. Marked by an intimacy with the audience, their performances feature precision picking, soaring harmonies and joyful, energetic choreography centered around an old school single microphone setup. The emotional richness of their music resonates throughout their stage show. Heartbreakers slip in between anthemic glass raisers. Driving tales of working men and women shimmy alongside wryly humorous numbers. Quick-witted stage banter keeps folks laughing. Tightly wound instrumental breakdowns keep dancers on their toes.
The Farewell Drifters • Sunday, August 4 • 3:00pm
Rising out of Nashville's thriving independent music scene, the Farewell Drifters are known for their 60's era-inspired harmonies and adventurous musical energy. They have crafted a seamless blend of earthy foot-stomping folk rock and intellectual pop with melodic songs that openly explore the brightest and darkest corners of life with raw intensity. The Farewell Drifters have been featured by some of the nation's leading music press including NPR, CMT.com, Paste Magazine, and American Songwriter, and in addition to the critical praise, their past two albums have charted on Billboard and the Americana Radio Chart.
Theatre
Montana Shakespeare in the Parks • The Recruiting Officer • Friday, August 2 • 4:30pm
Written in 1706, George Farquhar's
The Recruiting Officer
was one of the most successful of eighteenth-century Restoration comedies. The play's two plots feature a traditional comical romance involving two couples, Captain Plume-Silvia and Worthy-Melinda, interwoven with an amiable satire on military life, in particular the recruiting tactics of Captain Plume and Sergeant Kite.
Missoula Children's Theatre • The Secret Garden • Saturday, August 3 • 1:00pm
The Secret Garden, an original Missoula Children's Theatre rendition, is a joyful retelling of a story of hope and celebration and all good things in life.  Mistress Mary Quite Contrary embarks on a journey from India to her uncle's home in England.  Along the way she makes friends with the hilarious Canadian Geese and the colorful Giant Bugs that Rock!  In time she learns to appreciate everything around her, including the Moor Animals and the helpful Fireflies.  Add to that a good healthy dose of caring, and what happens?  Colin, Martha, Archibald – well the whole household – begin to enjoy the return of health and happiness in a garden carefully tended…until it blossoms once more.
Auditions will be held Monday, July 29th at 10:00 am at Hope Lutheran Church. Children entering grades 1-12 are encouraged to audition. Selected children will need to be available for rehearsals July 29-August 2, 10:00-2:30 and the performance on Saturday, August 3rd.
Spontaneous Combustibles • Improv Comedy • Saturday, August 3 @ 2:00pm • Sunday, August 4 @ 12:00pm
The Spontaneous Combustibles improv comedy troupe provides hilarious, smart and fast-paced entertainment. Each performance is unique, and the high energy of the show quickly captivates and involves the audience. Through a series of games, each with their own rules, scenes are created on the spot and can take the form of anything from a straight forward exchange to an opera or musical.
Every character begins with a simple step, a movement that is refined to tell a story. In this workshop all ages will take that first step together to learn basic dance terminology and moves. All levels of movers, from trained to novice, will work collectively in this dynamic workshop.
Intermountain Opera Bozeman • Saturday, August 3 • 4:00pm
Missoula Children's Theatre • Youth Workshop: Introduction to Mime • Saturday, August 3 • 5:00pm
Through a series of fun and enlightening exercises, the students are introduced to the art of acting without words, from simple body language to the techniques of creating illusions.
Missoula Children's Theatre • Youth Workshop: The Actor's Tools • Sunday, August 4 • 11:00am
The basic tools of the actor's trade – observation, memorization, concentration, and imagination – are presented and explored in an entertaining manner.  The students participate in a variety of fun exercises, learning to apply the actor's tools to performing and to everyday life.
Montana Shakespeare in the Parks • Henry V • Sunday, August 4 • 5:00pm
The play is set in England in the early fifteenth century. The political situation in England is tense: King Henry IV has died, and his son, the young King Henry V, has just assumed the throne. MSIP's 41st summer season proudly presents the exciting history of Henry V.