Sweet Pea has leased Lindley Park from the City of Bozeman for the Festival dates and a wristband is required for admittance. Wristbands must be worn around your wrist and visible at all times when inside Lindley Park. Admission sales are the Festival's primary source of financial support. Sweet Pea is not responsible for lost or stolen bands.
Advance Full-Weekend Wristbands & Merchandise Outlets:
Festival merchandise and wristbands will be available at area outlets beginning July 5th and available until 12noon; August 3rd.
List of 2015 outlets  2016 update with even more outlets than 2015 coming soon!
Festival Admission – BUY YOUR WRISTBANDS NOW FOR THE BEST PRICE – Click below or drop in to our Office (Tues-Fri 11am-5pm) or any of the 2016 Outlets!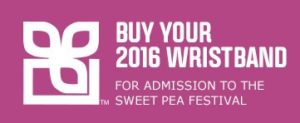 Adult Full Weekend Access:  $20 in advance*
Gate Prices:  $30 (Friday)  $25 (Saturday) $15 (Sunday)**
Kids Full Weekend Access: $10 in advance*
Gate Prices:  $15 (Friday)  $10 (Saturday) $5 (Sunday)**
*Purchase in advance online, at our office or at an outlet through August 4th.  Online purchases will be available for pickup at Will Call at the Buttonwood Gate.
**Wristbands purchased at the gate are good through the remainder of the Festival.
The following Sweet Pea events are admission free:
Sweet Pea Chalk on the Walk, August 2nd
Sweet Pea's Bite of Bozeman, August 3rd
Sweet Pea Art Show, July 31st – August 30th
Sweet Pea Parade, August 6th