Sweet Pea 2014 Board of Directors Openings: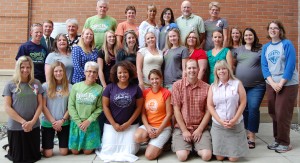 The Sweet Pea Board of Directors works year round to plan and produce one of Bozeman's finest outdoor events.  If you would like to be part of this amazing group consider joining our Board!  We have a variety of positions available – there's sure to be one that fits your skills (or give you the opportunity to hone some new ones).
Complete job descriptions and timelines of open positions can be viewed by clicking on each position title below. Inquire to Learn More (indicate "Planning Committee" in the "Primary Interest" box and which position(s) you are interested in learning more about in the "Comments" box).
Committee Chairs plan and organize specific areas of the Festival.  We encourage all committee chairs to attend our monthly board meetings and to be a part of discussions and votes (via your Division Coordinator) that take place.
Public Relations - Are you a people person? Do you have an address book full of local and regional contacts? Want to meet new people? Think you can help us improve our social media presence? Then Sweet Pea's Public Relations Chair position is for you. Write and distribute press releases for all committees, arrange for, and possibly create, window displays for Sweet Pea in local area businesses, organize the distribution of marketing posters, administer the "Good Neighbor" program in the housing district east of Lindley Park, fill requests from appropriate Sweet Pea personnel for speaking engagements and interviews, and if you are social media savvy we'd love your help and input in that area too. Express interest
The Festival also needs upwards of 400 volunteers to help with various tasks during July and at Festival. Check back in April or May for a list and description of those needs.
Tell us how you can help or call 406-586-4003 for more information.