Sweet Pea 2015 Planning Board Openings: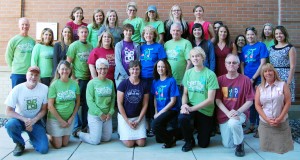 The Sweet Pea Board of Directors works year round to plan and produce one of Bozeman's finest outdoor events.  If you would like to be part of this amazing group consider joining our volunteer Board!  We have a variety of positions available – there's sure to be one that fits your skills (or give you the opportunity to hone some new ones).
Complete job descriptions and timelines of open positions can be viewed by clicking on each position title below. 
If you are interested in learning more about any of the volunteer positions and our board, please call 586.4003 or email your name, phone number and the position(s) you are most interested in to admin@sweetpeafestival.org and our Director will contact you.
Division Coordinators oversee the work of two or more committee chairs, assisting with planning as requested by their chair people. Attendance at monthly board meetings is required.  Excellent leadership and communication skills are necessary!
Performing Arts DC - Oversee the work of the Dance, Family Entertainment, Music, Theatre and Hospitality Committee Chairs to ensure timelines are being followed, budgets are managed and necessary information is provided to the Marketing Division.  Carefully supervise the scheduling of all performances to avoid location, time and noise conflicts among four stages. Coordinator attends monthly Board meetings to make progress reports and assists Committee Chairs with their duties as requested.
Committee Chairs plan and organize specific areas of the Festival.  We encourage all committee chairs to attend our monthly board meetings and to be a part of discussions and votes (via your Division Coordinator) that take place.
Children's Volunteers - More people express interest in volunteering for Children's Activities than anything else at Sweet Pea and we need someone to oversee them all! Manage our online volunteer scheduling tool, respond to potential volunteer emails and calls, contact past volunteers to invite them to volunteer again, and be available at Festival to check them in and direct them to the activity they have volunteered for. You will also work with the other members of the Children's Division to plan and execute the chosen activities.
Theatre – Work with Montana Shakespeare in the Parks, other theatrical groups and booking agencies to secure and contract all theatrical entertainment and workshops for the Festival. The Chair also oversees any stage and sound needs and emcees shows if needed.
T-shirt Design Contest – Structure, publicize and promote the t-shirt design contests (adult & children's). Create the contest entry form. Receive entries and compose an educated jury to screen entries to present a limited number of finalists to the Board for the selection of the winners. Prepare recommendations on colors for T-shirts (coordinated with Merchandising DC and team), recommend shirt fabric type, obtains bids on t-shirts, place the order, and make arrangements for delivery and suggest retail price, all to be approved by the Sweet Pea Board. Organize and execute the annual T-shirt Folding Party.
The Festival also needs upwards of 400 volunteers to help with various tasks during July and at Festival. Check back in April or May for a list and description of those needs.
Tell us how you can help by emailing admin@sweetpeafestival.org or call 406-586-4003 for more information.